47 Side Hustle Ideas for the Stay at Home Parent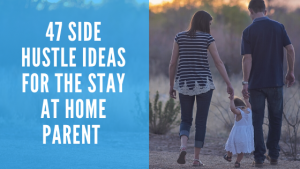 Are you a stay at home mom or dad looking for side hustle ideas to boost your income, pay off debt or to work for yourself? A side hustle is a great way to generate income while staying home with children.  To make extra money, people often look to part-time employment while some start a business as a side gig. The key to finding the right hustle is to combine an activity you enjoy, that fits your schedule, skills and financial goals, with a way to make extra money in your spare time.
Raising children is a full time job! The key to making these side hustles successful for a stay at home parent is relying on a spouse or partner to help out with the kids as you work at night or in the early mornings. Don't forget you can take advantage of nap time too!
Here is a list of 47 side hustle ideas for the stay at home parent.
Parking Lot Litter Removal
Every business wants to keep their property clear of litter. This means you can make money going for a walk! You simply walk the exterior property of any retail, office or industrial property and sweep litter into your litter collection bag. When your bag is full, the contents can be emptied into the onsite waste dumpster. Almost any commercial property with a parking lot is a potential job site. The work is done at night or early morning, on foot, using inexpensive hand tools and can earn you $30 – $50 per hour.
I made so much money in this side hustle, I quit my full-time job after only 3 months. It's been my business since 1981.
See cleanlots.com for details.
2. Ghostwriting
There's a huge demand for content and a lot of ways to make money writing it. Check out one of several ghostwriting platforms like Scripted, TextBroker or The Content Authority.
3. Tutoring
What subjects are you knowledgeable about? Parents will pay good money to assist their child's education. Tutor students in person or online. Check out Eduboard or WyzAnt.
4. Virtual Assistant
Virtual assistants provide administrative support to clients from their home-based office. Find gigs on Fiverr, Indeed and Upwork. Or hook up with an established VA company like BELAY or Fancy Hands.
5. Daycare
Do you love kids and have a lot of patience? Consider starting a day-home. Offer meals/snacks, activities and of course, supervision. Working parents in your neighborhood are looking for you. Check out care.com.
6. Voice-Over Talent
If you have a good speaking voice, you can get voice-over work on sites like Freelancer, People Per Hour and Upwork.
7. Photography
You can earn a residual income from selling your photos online over and over again. Check out iStockPhoto, Shutterstock, Bigstockphoto or Fotolia.
8. Ecommerce/Dropshipping
Sell products online without actually stocking the items themselves. Operate your business from anywhere in the world with a good internet connection. Check out Amazon, eBay or Shopify.
9. Selling on Etsy
Etsy is the world's largest marketplace for hand-crafted goods. Whether you make craft items, jewelry or small pieces of furniture, you can open up your own store at Etsy.
10. Selling on Zazzle
Sell your artwork or craft items for profit on Zazzle.
11. Babysit
If you have some experience caring for children, you can watch other people's kids so parents can have a date night. Connect with care.com to become a certified and recommended babysitter in your area.
12. Dog Walker
Dogs need exercise, but their owners aren't always able or motivated to take them for a walk. Check out the app, Wag, that links up dog walkers and dog owners.
13. Rent Your Car
You can rent out your car on a daily or hourly basis through companies like GetAround and Turo. They handle the insurance.
14. Alterations
Handy with a sewing machine? There are plenty of people in need of someone to mend their clothing. You might have great success advertising in your local community newsletter.
15. Computer Tutoring/Support
There are still portions of the population lacking basic computer skills.
16. Pet Sitting
When pet owners travel, they often need someone to care for their pets. You can become a pet sitter at care.com or simply watch over someone's pet at Rover.com.
17. Rent Out a Room
Own a home with an extra room? Rent it out to make extra cash. Possibilities include full time renters, college students or vacationers. Check out Airbnb.
18. Rent Out Your Garage
People are always searching for extra space to store their stuff. Do you have room in your garage for someone to store their motorcycle or RV?
19. Card Sender
Here is a really simple side hustle idea for the stay at home parent. Offer to mail out invitations, thank you cards or birthday cards for busy people or businesses.
20. Freelance Proof Reading and Editing
You can find work from businesses and individuals in need of proof reading and editing on Upwork.
21. Vehicle Advertising
Turn your vehicle into a money-maker by covering it with advertisements. Check out Wrapify or Carvertise for more details.
22. Answer questions
If you have an area of expertise, you can get paid to share your knowledge on JustAnswer.
23. Complete microtasks
You can find obscure tasks and requests for freelance services on Fiverr or Mechanical Turk.
24. Become a Notary
Charge a fee to notarize documents. I bet your friends would rather meet up with you than stand in line at a bank.
25. Write for blogs and online magazines
From local reviews to exotic vacations, simply writing about your experiences can earn you extra income from industry bloggers.
26. Odd Jobs
Nextdoor is a great place to find people who need odd jobs, and they're usually conveniently close to your home. Gigwalk app is another way to find small jobs in your area and only work when you want to.
27. Teach English
Make great pay teaching English online! Vipkid.com
28. Home Baking
Decorate cupcakes and dip cake pops as a home baker! This is a creative and flexible side hustle that would allow you to limit your orders or fill up your free time, depending on the week.
29. Travel Agent
Despite the internet providing widespread access to travel information, there is still a huge demand for letting someone else handle the research and booking.
30. Brand ambassadors (on social media)
Tag and share photos of what you already wear. With a discount code that links the sale to your name, everybody wins.
31. Give your opinion
Maximize nap times with this side hustle! UserTesting.com and similar sites pays you to visit websites or apps, complete a set of tasks, and speak your thoughts aloud.
32. Invest in Vending
Think about how many vending machines you have walked past this week alone. How many have you purchased from in a pinch because you were hungry or thirsty?
33. Transcription
Transcribing audio and video is a great part-time job you can do at home. Check out Rev.com for opportunities.
34. Cook
Have culinary skills? List your services on HireAChef.com to find catering gigs.
35. Teach music
If you're musically inclined, why not teach your skills to another generation? Lessons could be given out of your home and you could schedule them back to back to maximize your time.
36. Rent Baby Gear
Make extra cash by renting and delivering baby gear to help traveling families with BabyQuip.com.
37. Surrogacy
Give the gift of life and help a family's dream come true.
38. Blood/Plasma Donations
The amount of money you can earn by donating plasma is related to the volume you're able to donate. The more plasma, the more cash you're paid.
39. Consulting/Coaching
In what field are you an expert that others would pay for your advice? You can get started quickly with platforms like Clarity.fm and make great money on the side.
40. MLM
Multi-level marketing business continues to boom. Whether it be selling beauty products or kitchen gadgets the most successful MLM'ers have a large social network they can tap into to advertise their products and recruit others to join their selling team.
41. Sell Your Clothes
Communities like Poshmark.com allow you to sell new and gently used fashion, accessories and select home goods.
42. eBook Publishing
Have a great idea for a book? Now more than ever it's easy to self-publish online. Feel free to ask me any questions about how I did it.
43. Create an Online Course
Create an online video course and earn money by teaching people around the world.
44. Sell Your Hair
Have you ever thought about how much your hair is worth? The folks at HairSellon.com operate a marketplace where you can match with buyers looking for your exact hair type!
45. Ink Refiller
This is a great side hustle idea for the stay at home parent! Ink refilling is an environmentally friendly business that you can operate in the convenience of your home. Ink refill businesses save the earth from those unwanted empty cartridges that become useless once empty.
46. Furniture Upcycling
Handy with woodwork and upholstery? Recycled and upcycled furniture is gaining in popularity with eco-conscious consumers.
47. Refurbish Electronics
Many people are looking to save money by buying a refurbished product. With some basic repair skills, you can turn a broken phone, tablet or television into a profitable side hustle business.
Do you have additional side hustle ideas for a stay at home parent?  Please share them by posting a comment below. If you like this list, please share it.