Keep America Beautiful – How to keep your community litter-free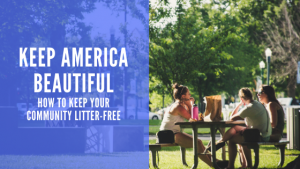 "Ours is a blessed and beautiful land. But much of it has been tarnished. What can you do? Look around you: at the littered roadside; at the polluted stream; the decayed city center. We need urgently to restore the beauty of our land."
– Lady Bird Johnson, First Lady of the United States of America
Keep America Beautiful is the largest community improvement organization in the United States. Founded in 1953, the organization has more than 600 state and community-based affiliate organizations and more than 1,200 partner organizations. Litter removal is as important today as it was in 1965 when Lady Bird Johnson joined Keep America Beautiful in promoting highway beautification.
Over the years, the Keep America Beautiful organization has launched iconic campaigns including a mascot partnership with canine TV star Lassie and the "Crying Indian" PSA campaign which symbolized environmental responsibility and remains one of the most successful PSA's in history. But their mission continues today to inspire and educate people to take everyday action in local communities.
Did You Know?
Litter cleanup costs more than $11.5 billion each year. The indirect costs of litter are also considerable. For example, the presence of litter in a community decreases property values by 7 percent.
Today, there are more than 50 billion pieces of litter on our nation's roadways with 4.6 billion pieces larger than four inches in size. Tobacco products continue to be the most prevalent aggregate litter item, comprising more than 35 percent of all litter. Following the landmark 2009 "Litter in America" study, Keep America Beautiful embarked on a new path to address the issue of blight.
A Passion for Litter-Free Communities
Litter removal is a passion of ours, which is why we wanted to highlight the amazing efforts of the Keep America Beautiful organization. Here are some 2019 highlights which feature impressive statistics:
-66M pounds of litter and recyclables collected
-8k miles of rivers, lakes, shorelines, and wetlands cleaned and improved
-60k miles of streets, roads, and highways cleaned, improved, or beautified
-12M volunteer hours logged
How to be a good neighbor
Keep America Beautiful publishes a comprehensive guide to reducing and managing litter. In it you'll learn about littering laws, discover best practices, and get ideas about how you can make an impact at work and at home.
Volunteerism is at the heart of Keep America Beautiful. Interested in a litter cleanup at a local beach or park? You can join the movement by entering your zip code to find the affiliate nearest to you. Encourage your family, friends, neighbors, and colleagues to do the same.
Looking for other ways you can help?
-Follow the conversation on social. Important hashtags include #DoBeautifulThings #EndLittering #Trashtag
-Check out special events including the Great American Cleanup (March 20,2020 – June 20, 2020)
-Invite others to participate
-Consider a career in litter clean-up. If you have ambition and an entrepreneurial spirit, you can launch a successful parking lot litter removal service, just like I did. Parking lot litter removal is an essential service benefitting the commercial businesses in your area while providing a lucrative opportunity for you to earn a good living working for yourself. Parking lots are often the first thing people see when they visit a business. Clean parking lots improve a business' reputation and results in less garbage potentially clogging storm drains and polluting waterways. It may be surprising to some but launching a parking lot litter removal business is very simple and can be very lucrative.
Together we can take responsibility for our environment and ensure our community is a clean, green and beautiful space to live.