Brian Winch | October 22, 2017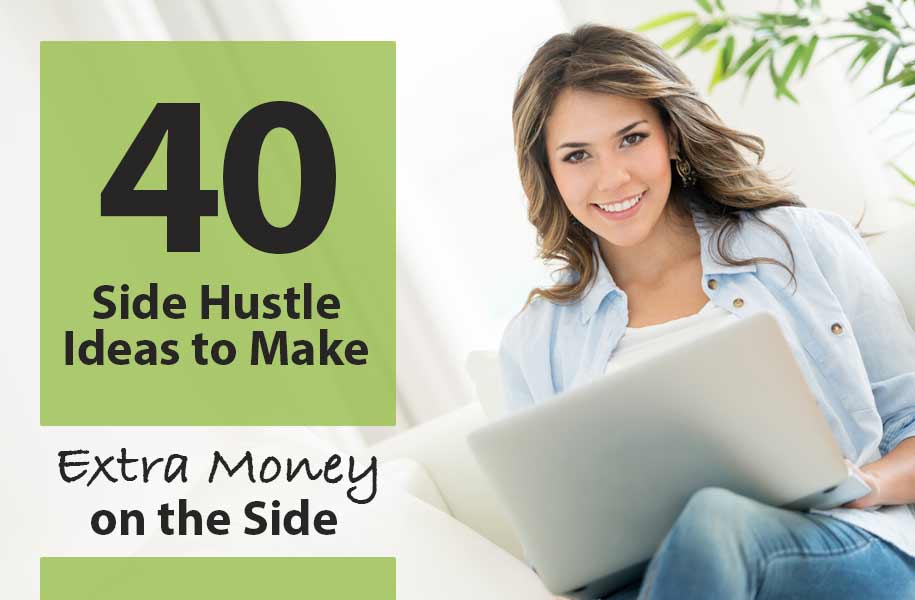 Are you looking for side hustle ideas as a means to make extra money to boost your income, pay off debt or to work for yourself? A side hustle is a great way to generate a second income while keeping your current job.
To make extra money, people often look to part-time employment, some start a business as a side gig, while others consider options like driving for Uber.
The key to finding the right hustle from many side hustle ideas is to combine an activity you enjoy, that fits your schedule, skills and financial goals, with a way to make extra money in your spare time.
If you need a little extra income each month but don't know where to start, I've compiled a list of simple low-cost side hustle ideas to get you started. I've focused on options with relatively low entry barriers, minimal special skills, low start-up costs and flexibility to work at them part-time. They're just ideas. If one or more spark some inspiration, you'll have to do the research to turn the idea into a profitable side hustle.
My 40 Side Hustle Ideas to Make Money
1. Parking Lot Litter Removal
Every business wants to keep their property clear of litter. This means you can make money going for a walk! You simply walk the exterior property of any retail, office or industrial property and sweep litter into your litter collection bag. When your bag is full, the contents can be emptied into the onsite waste dumpster. Almost any commercial property with a parking lot is a potential job site. The work is done at night or early morning, on foot, using inexpensive hand tools and can earn you $30 – $50 per hour.
I made so much money in this side hustle, I quit my full-time job after only 3 months. It's been my business since 1981.
See cleanlots.com for details.
2. Ghostwriting
There's a huge demand for content and a lot of ways to make money writing it. Check out one of several ghostwriting platforms like Scripted, TextBroker or The Content Authority.
3. Drive for Uber or Lyft
This is one of the more popular side hustles. Driving for one of the app-centric taxi alternatives can be a great way to make money nights and weekends. It provides an opportunity to work when you want.
4. Tutoring
What subjects are you knowledgeable about? Parents will pay good money to assist their child's education. Tutor students in person or online. Check out Eduboard or WyzAnt.
5. Consulting/Coaching
In what field are you an expert that others would pay for your advice? You can get started quickly with platforms like Clarity.fm and make great money on the side.
6. Virtual Assistant
Virtual assistants provide administrative support to clients from their home-based office. Find gigs on Fiverr, Indeed and Upwork. Or hook up with an established VA company like BELAY or Fancy Hands.
7. Daycare
Do you love kids and have a lot of patience? Consider starting a day-home. Offer meals/snacks, activities and of course, supervision. Working parents in your neighborhood are looking for you. Check out care.com.
8. Handyman Service
There are lots of people who are willing to pay someone with skills to do odd jobs around the house. See Angie's list, Craigslist or Task Rabbit.
9. Voice-Over Talent
If you have a good speaking voice, you can get voice-over work on sites like Freelancer, People Per Hour and Upwork.
10. Lawn Care
Plenty of people would gladly pay you to cut their grass. Offer a discount if they provide the mower and trimmer.
11. Photography
You can earn a residual income from selling your photos online over and over again. Check out iStockPhoto, Shutterstock, Bigstockphoto or Fotolia.
12. House Cleaning
Make great money cleaning for people who are too busy to do it themselves or hate cleaning. Use their cleaning supplies. Cleaning businesses are super side hustle ideas since they can cost so little to start and be turned into very profitable enterprises. Search your area in Craigslist.
13. Ecommerce/Dropshipping
Sell products online without actually stocking the items themselves. Operate your business from anywhere in the world with a good internet connection. Check out Amazon, eBay or Shopify.
14. Selling on Etsy
Etsy is the world's largest marketplace for hand-crafted goods. Whether you make craft items, jewelry or small pieces of furniture, you can open up your own store at Etsy.
15. Selling on Zazzle
Sell your artwork or craft items for profit on Zazzle.
16. Dog Waste Removal
Some people love their dog but not the "gifts" they receive from their pet. Make money doing what others won't do.
17. Babysit
If you have some experience caring for children, you can watch other people's kids so parents can have a date night. Connect with care.com to become a certified and recommended babysitter in your area.
18. Dog Walker
Dogs need exercise, but their owners aren't always able or motivated to take them for a walk. Check out the app, Wag, that links up dog walkers and dog owners.
19. Truck for Hire
If you own a truck, offer to pick up various goods for people, haul junk to the dump or assist with small moves. Post flyers in your community or advertise in Craigslist.
20. Rent Your Car
You can rent out your car on a daily or hourly basis through companies like GetAround and Turo. They handle the insurance.
21. House Sitter
You can make a house appear to be occupied for homeowners who are away.
22. Errand Service
Assist people with various errands and tasks. Check out Task Rabbit or the apps, Gig Walk or EasyShift.
23. Gardener
Specialize in planting and maintaining flower or vegetable gardens for people who don't have "green thumbs".
24. Referee
Recreational sports leagues are in need of officials. This can be a fun way to make extra money on the side if you can tune out the odd cat call.
Ad – See How to Make Money Going for Daily Walks!
https://www.facebook.com/cleanlots/videos/1463981633613413/
25. Alterations
Handy with a sewing machine? There are plenty of people in need of someone to mend their clothing. You might have great success advertising in your local community newsletter.
26. Carpet Cleaning
You could specialize in small jobs such as pet stain removal.
27. Computer Tutoring/Support
There are still portions of the population lacking basic computer skills.
28. Pet Sitting
When pet owners travel they often need someone to care for their pets. You can become a pet sitter at care.com or simply watch over someone's pet at Rover.com.
29. Spring and Fall Yard Work
Many people enjoy the exercise from mowing their lawn but can't be bothered with the extra seasonal cleanup work. Offer a Spring power rake and aeration service and a Fall leaf cleanup. Rent the equipment as needed.
30. Paint Street Numbers
Offer to paint people's street numbers on their curb so their house can be more easily found. All you need are paint and stencils.
31. Rent Out a Room
Own a home with an extra room? Rent it out to make extra cash. Possibilities include full time renters, college students or vacationers. Check out Airbnb.
32. Rent Out Your Garage
People are always searching for extra space to store their stuff. Do you have room in your garage for someone to store their motorcycle or RV?
33. Door Peep Hole Installer
This is one of the more unique side hustle ideas I have come across. When I moved into my new house, someone rang my doorbell one day. They offered to install a peep hole in my front entrance door for $30. They were done in about 5 minutes.
34. Card Sender
Offer to mail out invitations, thank you cards or birthday cards for busy people or businesses.
35. Home Entertainment Installation
Plenty of people search for someone to mount their big screen TV to a wall and make necessary connections. What's difficult for some can be profitable for others. Check out Task Rabbit
36. Assembly Service
As with Home Entertainment Installation, a lot of furniture needs assembly from someone who can make sense of the assembly instruction (not me!).
37. Freelance Proof Reading and Editing
You can find work from businesses and individuals in need of proof reading and editing on Upwork.
38. Vehicle Advertising
Turn your vehicle into a money-maker by covering it with advertisements. Check out Wrapify or Carvertise for more details.
39. Clean/Repair BBQ's
People enjoy cooking outdoors but some don't like the cleaning and maintenance.
40. Snow Removal
Clear snow from sidewalks and driveways with a shovel or snow blower. Clear snow from parking lots with a plow blade mounted to your truck.
Do you have any side hustle ideas on how to make extra money on the side? Please share them by posting a comment below.
If you like this list please share it.