Brian Winch | January 06, 2020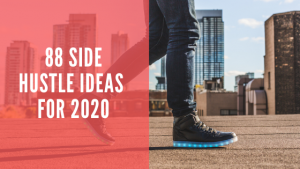 88 Side Hustle Ideas for 2020
Are you looking for side hustle ideas to boost your income, pay off debt or to work for yourself? A side hustle is a great way to generate a second income while keeping your current job.
To make extra money, people often look to part-time employment while some start a business as a side gig. The key to finding the right hustle is to combine an activity you enjoy, that fits your schedule, skills and financial goals, with a way to make extra money in your spare time.
If you need a little extra income each month but don't know where to start, I've compiled a list of 88 side hustle ideas for 2020 to get you started.
Parking Lot Litter Removal
Every business wants to keep their property clear of litter. This means you can make money going for a walk! You simply walk the exterior property of any retail, office or industrial property and sweep litter into your litter collection bag. When your bag is full, the contents can be emptied into the onsite waste dumpster. Almost any commercial property with a parking lot is a potential job site. The work is done at night or early morning, on foot, using inexpensive hand tools and can earn you $30 – $50 per hour.
I made so much money in this side hustle, I quit my full-time job after only 3 months. It's been my business since 1981.
See cleanlots.com for details.
Ghostwriting
There's a huge demand for content and a lot of ways to make money writing it. Check out one of several ghostwriting platforms like Scripted, TextBroker or The Content Authority.
Drive for Uber or Lyft
This is one of the more popular side hustles. Driving for one of the app-centric taxi alternatives can be a great way to make money nights and weekends. It provides an opportunity to work when you want. Uber and Lyft both have a feature that allows you to pick up rides along your normal route!
Tutoring
What subjects are you knowledgeable about? Parents will pay good money to assist their child's education. Tutor students in person or online. Check out Eduboard or WyzAnt.
Consulting/Coaching
In what field are you an expert that others would pay for your advice? You can get started quickly with platforms like Clarity.fm and make great money on the side.
Virtual Assistant
Virtual assistants provide administrative support to clients from their home-based office. Find gigs on Fiverr, Indeed and Upwork. Or hook up with an established VA company like BELAY or Fancy Hands.
Daycare
Do you love kids and have a lot of patience? Consider starting a day-home. Offer meals/snacks, activities and of course, supervision. Working parents in your neighborhood are looking for you. Check out care.com.
Handyman Service
There are lots of people who are willing to pay someone with skills to do odd jobs around the house. See Angie's list, Craigslist or Task Rabbit.
Voice-Over Talent
If you have a good speaking voice, you can get voice-over work on sites like Freelancer, People Per Hour and Upwork.
Lawn Care
Plenty of people would gladly pay you to cut their grass. Offer a discount if they provide the mower and trimmer.
Photography
You can earn a residual income from selling your photos online over and over again. Check out iStockPhoto, Shutterstock, Bigstockphoto or Fotolia.
House Cleaning
Make great money cleaning for people who are too busy to do it themselves or hate cleaning. Use their cleaning supplies. Cleaning businesses are super side hustle ideas since they can cost so little to start and be turned into very profitable enterprises. Search your area in Craigslist.
Ecommerce/Dropshipping
Sell products online without actually stocking the items themselves. Operate your business from anywhere in the world with a good internet connection. Check out Amazon, eBay or Shopify.
Selling on Etsy
Etsy is the world's largest marketplace for hand-crafted goods. Whether you make craft items, jewelry or small pieces of furniture, you can open up your own store at Etsy.
Selling on Zazzle
Sell your artwork or craft items for profit on Zazzle.
Dog Waste Removal
Some people love their dog but not the "gifts" they receive from their pet. Make money doing what others won't do.
Babysit
If you have some experience caring for children, you can watch other people's kids so parents can have a date night. Connect with care.com to become a certified and recommended babysitter in your area.
Dog Walker
Dogs need exercise, but their owners aren't always able or motivated to take them for a walk. Check out the app, Wag, that links up dog walkers and dog owners.
Truck for Hire
If you own a truck, offer to pick up various goods for people, haul junk to the dump or assist with small moves. Post flyers in your community or advertise in Craigslist.
Rent Your Car
You can rent out your car on a daily or hourly basis through companies like GetAround and Turo. They handle the insurance.
House Sitter
You can make a house appear to be occupied for homeowners who are away.
Errand Service
Assist people with various errands and tasks. Check out Task Rabbit or the apps, Gig Walk or EasyShift.
Gardener
Specialize in planting and maintaining flower or vegetable gardens for people who don't have "green thumbs".
Referee
Recreational sports leagues need officials. This can be a fun way to make extra money on the side if you can tune out the odd cat call.
Alterations
Handy with a sewing machine? There are plenty of people in need of someone to mend their clothing. You might have great success advertising in your local community newsletter.
Carpet Cleaning
You could specialize in small jobs such as pet stain removal.
Computer Tutoring/Support
There are still portions of the population lacking basic computer skills.
Pet Sitting
When pet owners travel, they often need someone to care for their pets. You can become a pet sitter at care.com or simply watch over someone's pet at Rover.com.
Spring and Fall Yard Work
Many people enjoy the exercise from mowing their lawn but can't be bothered with the extra seasonal cleanup work. Offer a Spring power rake and aeration service and a Fall leaf cleanup. Rent the equipment as needed.
Paint Street Numbers
Offer to paint people's street numbers on their curb so their house can be more easily found. All you need are paint and stencils.
Rent Out a Room
Own a home with an extra room? Rent it out to make extra cash. Possibilities include full time renters, college students or vacationers. Check out Airbnb.
Rent Out Your Garage
People are always searching for extra space to store their stuff. Do you have room in your garage for someone to store their motorcycle or RV?
Door Peep Hole Installer
This is one of the more unique side hustle ideas I have come across. When I moved into my new house, someone rang my doorbell one day. They offered to install a peep hole in my front entrance door for $30. They were done in about 5 minutes.
Card Sender
Offer to mail out invitations, thank you cards or birthday cards for busy people or businesses.
Home Entertainment Installation
Plenty of people search for someone to mount their big screen TV to a wall and make necessary connections. What's difficult for some can be profitable for others. Check out Task Rabbit.
Assembly Service
As with Home Entertainment Installation, a lot of furniture needs assembly from someone who can make sense of the assembly instruction (not me!).
37. Freelance Proof Reading and Editing
You can find work from businesses and individuals in need of proof reading and editing on Upwork.
38. Vehicle Advertising
Turn your vehicle into a money-maker by covering it with advertisements. Check out Wrapify or Carvertise for more details.
39. Clean/Repair BBQ's
People enjoy cooking outdoors but some don't like the cleaning and maintenance.
Snow Removal
Clear snow from sidewalks and driveways with a shovel or snow blower. Clear snow from parking lots with a plow blade mounted to your truck.
Instacart shopper
With the ability to set your own schedule, this makes for a convenient way to make great money during your free time. https://shoppers.instacart.com/role/full-service
Answer questions
If you have an area of expertise, you can get paid to share your knowledge on JustAnswer.
Complete microtasks
You can find obscure tasks and requests for freelance services on Fiverr or Mechanical Turk.
Officiate a Wedding
Get ordained online and start advertising for gigs!
Uber Eats and Door Dash
Just like Uber or Lyft, but without the passengers.
Become a Notary
Charge a fee to notarize documents. I bet your friends would rather meet up with you than stand in line at a bank.
Write for blogs and online magazines
From local reviews to exotic vacations, simply writing about your experiences can earn you extra income from industry bloggers.
Odd Jobs
Nextdoor is a great place to find people who need odd jobs, and they're usually conveniently close to your home. Gigwalk app is another way to find small jobs in your area and only work when you want to.
Barista
Are you an early riser? Most Starbucks open at 5:00am, meaning you could work a part time shift before your regular job. Or evening and weekend shifts. Plus, they have great benefits.
Teach English
Make great pay teaching English online! Vipkid.com
Teach Fitness
Become a Personal Trainer and help others to find a healthy way of living.
Teach Yoga
Many yoga studios offer instructor training which you can use to hone your craft and learn how to instruct others.
Home Baking
Decorate cupcakes and dip cake pops as a home baker! This is a creative and flexible side hustle that would allow you to limit your orders or fill up your free time, depending on the week.
Travel Agent
Despite the internet providing widespread access to travel information, there is still a huge demand for letting someone else handle the research and booking.
Caregiving – for older generations
Have some time to sit and chat or take a stroll? There's a family caregiver out there who needs a little break.
Brand ambassadors (on social media)
Tag and share photos of what you already wear. With a discount code that links the sale to your name, everybody wins.
Mystery shopping
Shop the store you were hired by, or spy on their competition!
Give your opinion
UserTesting.com and similar sites pays you to visit websites or apps, complete a set of tasks, and speak your thoughts aloud.
Storage Unit Auctions
Bid on abandoned units and let the scavenger hunt for valuable items begin!
Invest in Vending
Think about how many vending machines you have walked past this week alone. How many have you purchased from in a pinch because you were hungry or thirsty?
Transcription
Transcribing audio and video is a great part-time job you can do at home. Check out Rev.com for opportunities.
Cook
Have culinary skills? List your services on HireAChef.com to find catering gigs.
Act
Ever wanted to see your name in lights? Consider applying for opportunities to be an extra in movies shot near your location! A simple online search for "extra casting calls" in your city will pull up websites with casting calls you can answer.
Organize
Do people rave about your organization skills? Put that to work by helping others to declutter their kitchens, closets and garages.
Teach music
If you're musically inclined, why not teach your skills to another generation? Lessons could be given out of your home and you could schedule them back to back to maximize your time.
Rent a Friend
There are over 600,000 people registered on RentAFriend.com to make themselves available to attend weddings, play a round of golf or act as a tour guide. Get paid to socialize!
Touch Therapy
Want to become a trained professional snuggler? Touch therapy is a platonic alternate therapy so people can experience the healing power of human touch.
Rent Baby Gear
Make extra cash by renting and delivering baby gear to help traveling families with BabyQuip.com.
Surrogacy
Give the gift of life and help a family's dream come true.
Blood/Plasma Donations
The amount of money you can earn by donating plasma is related to the volume you're able to donate. The more plasma, the more cash you're paid.
Sperm Donations
Sperm donation clinics have a lengthy process to determine if you are a good fit with their clinic, but if you meet qualifications and pass all the screening procedures you could find a lucrative side hustle.
MLM
Multi-level marketing business continues to boom. Whether it be selling beauty products or kitchen gadgets the most successful MLM'ers have a large social network they can tap into to advertise their products and recruit others to join their selling team.
Human Billboard
You've seen folks wearing sandwich board ads standing in front of shopping centers or at busy intersections. Sign spinners are also in demand.
Sell Your Clothes
Communities like Poshmark.com allow you to sell new and gently used fashion, accessories and select home goods.
eBook Publishing
Have a great idea for a book? Now more than ever it's easy to self-publish online. Feel free to ask me any questions about how I did it.
Create an Online Course
Create an online video course and earn money by teaching people around the world.
Spray tan on demand
Invest in some equipment and start advertising your service! Folks will love that you travel to them and can provide a spray tan in the comfort of their home.
Lifeguard
Love water and sun? Get certified and lifeguard at local beaches and community pools.
Mobile vehicle detailer
Another great side hustle where you're providing convenience. Whether parked in a driveway or in the company parking lot you can come to their location of choice to perform this service.
House Painter
Painting is a skill, but it's not all that complicated, and you can make decent money once you know the tricks of the trade.
Window Washer
Even if you live in a small town you can make a window washing business a successful side hustle with little skill and minor equipment expenditures.
Sell Your Hair
Have you ever thought about how much your hair is worth? The folks at HairSellon.com operate a marketplace where you can match with buyers looking for your exact hair type!
Home Staging Business
If you've ever binged HGTV on a rainy weekend you know that there is a market for home staging in conjunction with real estate buying and selling.
Start an Estate Sale Business
You don't need special training or certifications to become an estate salesperson. Estate sales are often conducted after someone has recently died, but they're also used by people looking to downsize or liquidate personal collections.
Golf Instructor
Certification is important with this side hustle and will impact your compensation depending on your level of training.
Ink Refiller
This is an environmentally friendly business that you can operate in the convenience of your home. Ink refill businesses save the earth from those unwanted empty cartridges that become useless once empty.
Furniture Upcycling
Handy with woodwork and upholstery? Recycled and upcycled furniture is gaining in popularity with eco-conscious consumers.
Refurbish Electronics
Many people are looking to save money by buying a refurbished product. With some basic repair skills, you can turn a broken phone, tablet or television into a profitable side hustle business.
Do you have any side hustle ideas on how to make extra money on the side? Please share them by posting a comment below. If you like this list, please share it.