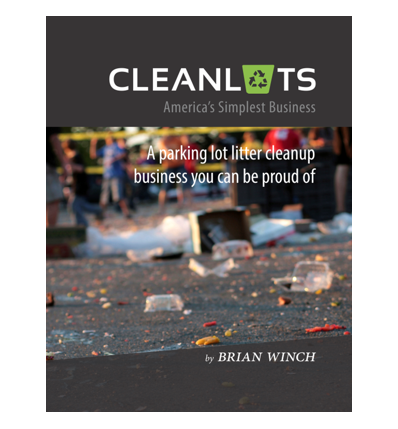 CleanLots Operations Manual
CLEANLOTS is an operations manual on how to start and run a parking lot litter cleaning business
Available For U.S. Residents Only
Product Description
Take advantage of my many years of experience in this business. Learn from my experience. Learn from my mistakes. More importantly, learn from my Success! Others have and so can you in what many are calling "Americas' Most Simplest Business".
In my illustrated, easy-to-follow manual, I reveal all of my secrets for starting and running a successful, money-making parking lot litter cleanup business.
What you get
My manual will guide you through every step of the process. No hype. No smoke. Just a solid, proven system that works. All the marketing, management and training tools you need. Discover how to:
Get started quickly, easily and with very little money.
Market your service and get all the clients you want fast and without expensive advertising.
Get others to do the work for you (part time) and enjoy unlimited income!
FREE Phone (and email) Support with Brian Winch
is included with your book purchase. We've made it easy to start your own parking lot (litter) cleaning business.
CleanLots Pro Bundle Package Deal ($30 Discount!)
CLEANLOTS Pro Bundle has everything you need to get your parking lot clean up business started. Purchasing the Pro Bundle Package Deal gives you a $30 discount off the book and all the business support packages currently available.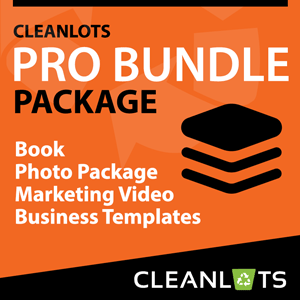 What you get
This is an economical way to purchase the book and all the business support packages currently available.
Pro Bundle includes:
Book (ebook and hard copy options)
Business Forms Template Kit
Business Marketing Video
Photo Package
eBook Bundle: $139.99
Hard Copy Book Bundle: $149.95
$139.95 – $149.95Select options
---
CleanLots Business Forms Template Kit
We've made it easy to start your own parking lot business. Our Business Forms Template Kit will save you significant administrative set up time by providing editable forms you can use to advertise, quote, record and invoice your parking lot clean-up business.
NOTE: This an add-on product to help you build your own parking lot clean-up business and DOES NOT replace the information found in Cleanlots book.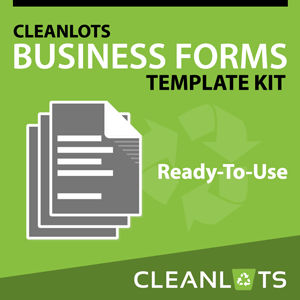 What you get
Get simple, ready-to-use business forms to support your business. These editable PDF and MS Word format documents require Microsoft Word or Google Docs, and Adobe Acrobat.
Kit includes the following templates:
Promotions Flyers
Proposal
Field Report
Invoice
Sub-Contractor Contract
All these templates for the low price of $19.95
$19.95Add to cart
CleanLots Business Marketing Video
We've prepared a marketing video to help you promote and explain your business to clients, friends and referral partners. The video demonstrates what you do, the areas you clean and the details of your offering.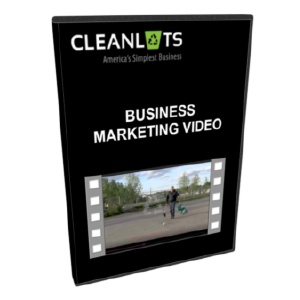 What you get
We supply a link to download the 90-second video in MP4 format.
The video is meant for use on your website, on your business directory listings (like yellow pages or a free Google My Business listing) and your social media profiles like Facebook, Instagram, Linkedin, etc.
Video is $39.95
$39.95Add to cart
CleanLots Marketing Photo Package
Finding photos to promote your business can be time consuming and expensive. We have taken the guess work out with the Cleanlots Marketing Photo Package.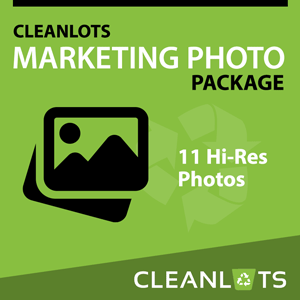 What you get
11 high resolution photos are excellent for a variety of applications including:
Website
Social Media
Business Cards
And so much more!
The Cleanlots Marketing Photo Package includes 11 photos for $29.95.
$29.95Add to cart